macosX research & development:
interactive realtime stepsequenced softwaresynthesizer
This is an old article from 2001. We purchased some software for OSX and created great stuff on it. But we became alienated by Apple too when they dropped SoundDiver, a key application in our studio to edit for we paid some hard bucks. The trust into closed source software became thinner and thinner and finally we migrate full scale to Linux, discovering incredible new possibilities which are not given in closed source environment. It fills a whole new article which is posted here soon.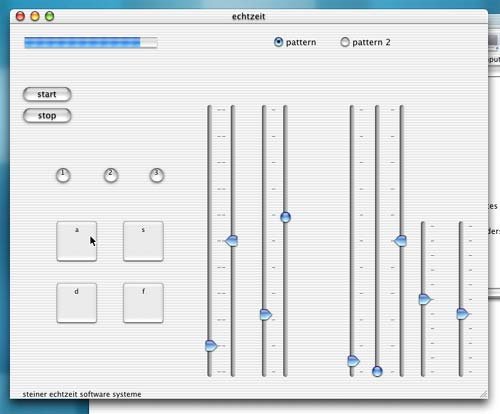 Due to current developments at Microsoft we have decided to use another operating system. After a search for the system that meets best our needs, we prefer Apple MacosX. For a test Malte Steiner developed a softwaresynthesizer generating different sounds in realtime, driven by a buildin stepsequencer. This software is a whole song/piece which can be controled in several ways in realtime. First results will be released as mp3 and later as a record under the brand 'Notstandskomitee' and also used in future liveperformances. It shows that the audioperformance is rocksolid even under the MacosX preversion 10.0.4 and gives another step into sonical freedom. The artist, following the DaVinci or Bauhaus ideal of the combination of technical skills (in this case programming and DSP) and creativity, builds his own isntruments instead editing third party synthesizers/ software, only limited by his or her knowledge and the underlying operating system. An o.s. is built for serving the hardware resources to the software but we believe that future Windows systems are built with another idea in mind so we are forced to leave the Microsoft path to preserve our creative freedom and realize our wired ideas of music and art. We will develop synthesizersoftware in the near future usable for more general music purposes for MacosX which will be available on a fair shareware price.
block 4 | Hamburg | Germany | 19.09.2001 | all material © Malte Steiner | all enumerated brands belongs to their holders